NOBILLSMAN
The Holy Bible
Authorized King James Version 1611

Its yours for FREE, and to distribute! Please tell others.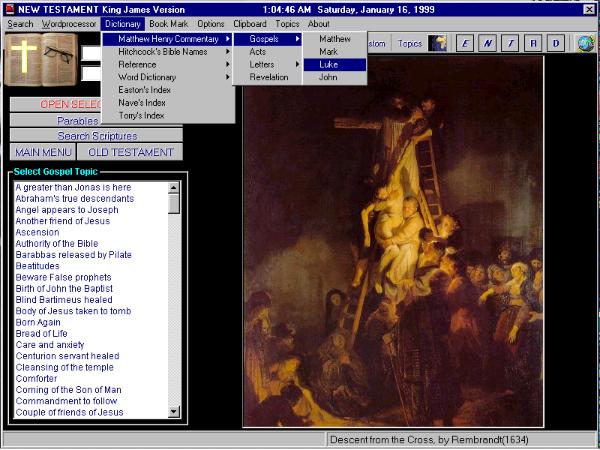 Estimated Download times: 9600 bps....... 205 minutes 14.4kbps....... 137 minutes 28.8kbps....... 68 minutes 57.6Kbps....... 34 minutes The Bible5.zip (also called Bibjam.zip) file is approx. 12.2 MB . Note these times are approx. and depend on the time of day. The more people on the net the slower we go!

---
Click here to download from Winsite

Click here to download from ZDNET

---

Febuary 1999 Bible5.zip (also called Bibjam.zip)Version 5.1
IMPORTANT: The Bible program will not display properly if you have the screen resolution set
at 640 x 480.

To change the resolution from 640 X 480 to 800 x 600 16bit High color.
Right click on the Windows desk top and select properties.

Click on settings and under color palette select high color (16 bit ).

Change the font size to small fonts.

Under desktop area move the slider to 800 x 600 and click apply then ok. Now it will fit on your screen.

---
Important Note: You will need to UNZIP the bible5.zip(also called Bibjam.zip) after you download it from the internet. You may pick from one of the following programs for free.
To download a ZIP PROGRAM click below for Win3.1, Win95 or Win.98. Also installation instructions for the Bible program are in the Readme.txt.
Powerzip FREE Win/95
WINZIP 7.0
PKZIP Win3.1
PKZIP Win95/98
---

Email: NOBILLSMAN@aol.com